Hoop Dreams Club Basketball
In the realm of youth basketball, the term "club" carries a distinctive weight and purpose. It represents more than just a team or a collection of players; it embodies an organization dedicated to nurturing young talents through competitive sports while enriching their lives both on and off the court.
At Hoop Dreams, we proudly embrace the identity of a club, one that places a strong emphasis on player development. We believe in the power of professional coaching, which is why we discourage parent coaches on the bench, or the sideline. Our boys' program, rooted in a legacy that dates back to 2007, operates side by side with our rapidly-growing girls' program, now entering its third year.
But what truly sets us apart is the wide spectrum of age groups we serve. Our club basketball program is open to boys from the 2nd to the 11th grade and girls from the 3rd to the 9th grade. Yes, you read that right! We're not just about high school athletes; we're dedicated to providing opportunities for players of all ages. Our comprehensive program spans various age groups, ensuring that every child, regardless of grade, finds a place to develop skills, build camaraderie, and embrace the thrill of the game. From our foundational youth leagues to the elite high school club teams, Hoop Dreams offers a seamless progression for players, creating an inclusive and thriving basketball community.
Hoop Dreams Club Basketball offers players the opportunity to compete at local, state, and even national levels. However, our commitment goes beyond just tournaments. We believe that the real growth happens on the practice court, and that's why we dedicate ourselves to ensuring our players have access to top-tier facilities and resources. Our state-of-the-art Nandino location, with its professional-grade court and specialized training equipment, serves as the foundation of our player development efforts.
We're more than just a series of games; we're about fostering experiences that shape character, build resilience, and nurture camaraderie. Our high school teams stand as a testament to this holistic approach, with their most recent appearance on the Adidas Circuit during the spring of 2023 showcasing the strength of our program.
At Hoop Dreams Club Basketball, we're dedicated to providing the resources and support that enable players to reach their full potential. Our commitment to practice, training, and personal development sets us apart and ensures that our players are not just competitors but well-rounded athletes poised for success both on and off the court. Our journey of success is supported by a wealth of basketball resources, including a comprehensive training program, engaging camps, competitive leagues, and specialized clinics.
Join us in redefining what "club" basketball truly means. Discover the Hoop Dreams Club Basketball experience, where potential knows no limits, and where the journey is as important as the destination.
Upcoming 2023 Fall/Winter Season
Gear up for an exhilarating basketball season with Hoop Dreams! Our upcoming Fall/Winter Club season promises a dynamic blend of skill development, competitive play, and unforgettable team experiences.
Schedule
Location: 892 Nandino Blvd, Lexington, Kentucky 40509
October 21st and November 4th:
What to Expect at Tryouts:
At Hoop Dreams, our tryouts are designed to be a positive and inclusive experience for every child. We provide every participant with an opportunity to showcase their skills, work ethic, and discipline. Your child doesn't need to bring anything but a drink and an excellent attitude. We encourage parents not to be discouraged by skill gaps but to see it as an opportunity for their child to gain much-needed development. Hoop Dreams offers a team placement for all skill levels, and we welcome every child who wishes to try out.
CLUB BASKETBALL TEAMS
Compete at the highest level and take your game to new heights.
Contact Us
Do not fill this form out if you're a solicitor.
Why Choose Hoop Dreams?
Professional Coaching
At Hoop Dreams, we place great emphasis on the transformative power of professional coaching. Our coaching staff consists of individuals for whom coaching is not just a passion but a dedicated profession. It is their full-time commitment to ensure that each team under their guidance experiences tangible improvement. We actively discourage parent coaches, emphasizing the importance of expertise and a comprehensive understanding of the game.
Our coaches bring numerous years of valuable experience to the court, creating an environment where players can thrive and reach their full potential. What sets our professional coaching apart is the unwavering support our coaches receive from the entire Hoop Dreams organization. Led by Mike Scott, a basketball veteran with over two decades of experience in Kentucky and beyond, our coaching team is backed by a wealth of knowledge and a commitment to excellence that defines the very essence of professional coaching.
Comprehensive Player Development
Hoop Dreams Club Basketball offers a holistic player development program that extends beyond the court's boundaries. It's not just about regular practices and training sessions; it's a journey that includes engaging camps, competitive leagues, and specialized clinics. This multi-faceted approach ensures our athletes are not just skilled players but well-rounded individuals, ready for success on and off the court.
Club coaches, who are often also trainers, play a crucial role in this journey. Their intensity and focus on individual skills make the training sessions outside of regular practices a valuable opportunity for players to enhance their game. As players progress through the club and league, they seamlessly integrate with our training program, creating a harmonious synergy between team play and individual skill development. It's a dynamic process where every player has the chance to elevate their game and reach their full potential.
Long-Term Development
Hoop Dreams Club Basketball extends an invitation for students to return year after year, fostering consistency in their development journey. Our coaching and training philosophy serves as a guiding force, ensuring players progress through the program's various stages. We understand that true growth takes time, and our commitment goes beyond immediate success.
Participating in our club offers a unique benefit: our coaches closely observe your child in games, gaining valuable insights into their strengths and areas for improvement. This knowledge is then used to tailor individualized skills training, creating a seamless integration of gameplay and development. Players can transition between our league and the club, gaining confidence and expanding their roles with each season. This iterative process, unique to Hoop Dreams, ensures constant and meaningful development for the child.
Beyond the court, our focus on long-term development creates bonds and relationships that last a lifetime. Hoop Dreams is not just about basketball; it's about building a community where players forge connections that go beyond the game. Our goal is to provide an environment where athletes not only thrive in their sport but also develop lasting friendships and life skills.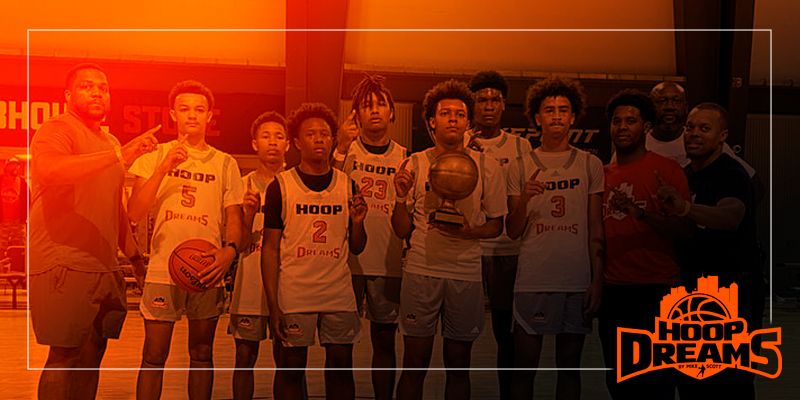 AN OVERVIEW OF OUR SEASON
Fall/Winter Season:
The Fall/Winter season at Hoop Dreams serves as an ideal starting point for our young athletes. Running from late October to early/mid March, it offers a foundation for basketball development. During this season, teams typically participate in local tournaments, providing a less intense competitive environment, ideal for honing skills and building confidence. Our primary focus here is player development, ensuring our younger teams are well-prepared for future seasons as they grow through our program. We crank up the intensity during practices, challenging our athletes to become better players. Hoop Dreams provides dedicated training throughout the week, pushing each athlete to reach their potential.
Spring/Summer Season:
When the days grow longer and the sun shines brighter, it's time for the Spring/Summer season at Hoop Dreams. Running from mid-late March to late July/early August, this season offers a new level of excitement. Teams might travel a bit farther as the competition heats up, providing opportunities for athletes to test their skills against a broader range of opponents. We understand the dedication it takes to commit to a full year of basketball, and that's why we offer a discount to members who choose to return from the Fall/Winter season to the Spring/Summer season. While competition remains important, player development remains at the forefront, especially for our younger teams. This season isn't just about playing; it's about taking your game to new heights and experiencing the thrill of competition, all while preparing for the next stages of our program.
Team Excursions
Weekend tournament trips are not just about basketball; they're a chance to build lasting memories. Beyond the court, players embark on a journey of camaraderie, exploring new places, and creating friendships that extend far beyond the game. Decisions about the number of tournaments are thoughtfully made by the Hoop Dreams staff and are communicated clearly to families. We remain committed to providing a comprehensive understanding of each player's development and team goals. 
Clear Communication
At Hoop Dreams, we believe in transparent communication regarding both playing time and tournament participation. Coaches exercise discretion in selecting players for on-court action, with no guaranteed minimum playing time during tournaments. Players are encouraged to work hard in practice, both on and off the court, to enhance their skills and increase their chances of playing time. 
Structured Practices
Teams are assigned specific weekly slots, the primary times they'll gather. Each week guarantees at least one meeting, though occasionally, teams may convene twice. We're not just about routine drills. These sessions might be used as small training sessions, a chance for scrimmage, fitness, or a unique bonding experience for the team. Whether it's an educational talk, a high-level workout or a team-building activity, these moments contribute to both individual growth and team camaraderie. 
Player Movement and Interaction
Our intentional structure allows players from different grades to practice and interact. This dynamic environment provides the flexibility for players to move between teams from year to year, promoting continuous growth, adaptability, and a sense of camaraderie. At Hoop Dreams, we're not just building teams; we're fostering a basketball community where every player can find their unique path to success.
Elevating Central Kentucky Basketball
At Hoop Dreams, our vision extends beyond individual success; we're committed to building a robust team structure for the betterment of Central Kentucky basketball. As we expand our team levels, our goal is to provide diverse opportunities, ensuring that every player has the chance to excel in the world of club basketball.
Local Teams 
These teams keep it local, staying within an hour's reach. Primarily participate in 2-3 tournaments per season, with a focus on the Hoop Dreams League or local team leagues. Emphasis on practices and training to foster skill development and teamwork. A cost-effective option for families, making it an ideal starting point for young athletes.
State Teams 
Expanding horizons with travel up to 4 hours, occasionally crossing state borders. Engage in a more competitive circuit with 4-8 tournaments per season. Strike a balance between rigorous practices and tournament play, preparing players for heightened competition. Suited for those seeking a more competitive edge or players with multiple years of experience at Hoop Dreams.
National Teams 
Embark on an exciting journey with the possibility of extensive travel along the East Coast. Long bus rides or individual flights may be part of the adventure, with frequent hotel stays. Exposure to colleges, recruiting guidance, and a heightened level of competition define this elite level. Mainly participate in high-caliber tournaments throughout the season, complemented by intensive bootcamp-style practice weekends.
Ready to Elevate Your Game? Here's Your Next Move
Claim Your Spot at Upcoming Tryouts: If you're in 2nd-6th grade, don't miss the chance to join Hoop Dreams this fall! Sign up for our upcoming tryouts!Register Here
Start Your Basketball Journey: Not sure if the club commitment is right for you? Begin your basketball adventure with a free training class in our Basketball Academy!Free Trial Class
Have Questions? Get Answers: Need more information before taking the plunge? Check out our FAQ page for quick answers or fill out our questionnaire for assistance. FAQ
Elite Club Basketball: Are you a high school athlete aiming for elite club basketball? Attend at least one skills training session to meet our coaches, many of whom are club coaches. Express your intention to try out in the spring and dive into elite-level skills development.