Hoop Dreams Palumbo
Welcome to Hoop Dreams Palumbo, our central training facility that encapsulates the essence of basketball excellence. At the heart of Palumbo is a pristine full-size court, boasting dimensions of [insert dimensions], offering an authentic playing experience for athletes of all levels.
Palumbo's commitment to quality extends to its amenities. We provide a concession stand, vending machine, and a spacious party room available for rental. It's the perfect setting for basketball-themed celebrations, blending fun with athleticism.
Beyond the court and amenities, our administrative offices are conveniently located here. We're always accessible to assist our players and their families, ensuring a seamless experience with Hoop Dreams.
Notably, Palumbo is also home to Dream Care Learning, our daycare program. Under the same ownership as Hoop Dreams, Dream Care Learning seamlessly integrates basketball-themed activities into its curriculum, providing a unique blend of learning and play.
Palumbo serves as the primary location for our skills training program, where athletes of all levels come to refine their skills and pursue their basketball dreams.
Join us at Hoop Dreams Palumbo, where the journey to basketball excellence begins. It's a place where dreams take shape, hard work pays off, and the love for the game thrives.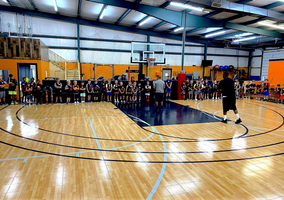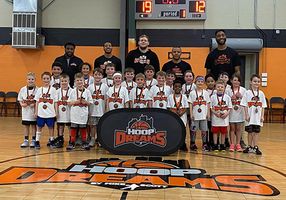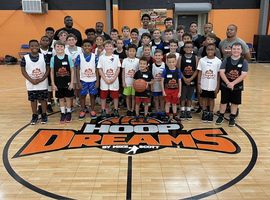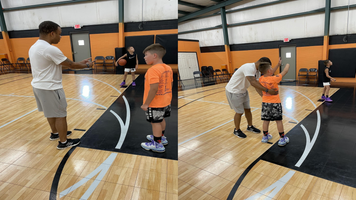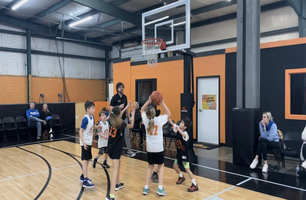 Hoop Dreams Nandino
Welcome to Hoop Dreams Nandino, a forward-looking training facility that holds the key to shaping the future of basketball excellence. Central to Nandino is a meticulously designed full-size court that mirrors the standards of professional arenas. The court's pure hardwood and epoxy flooring contributes to the professional ambiance, while offering a solid foundation for skill development and training.
Step into the expansive workout area at Hoop Dreams Nandino, and you're entering a space where innovation meets intention. This facility proudly houses the Vertimax and Vertimax Raptor, advanced training tools designed to enhance vertical jump, explosiveness, and overall athleticism. Additionally, Nandino stands as the exclusive home to our cutting-edge shooting machines—a standout feature used to elevate shooting precision and speed. These machines provide rapid-fire passes and rebounds to fine-tune your shooting skills.
While today marks a powerful training ground, the future holds exciting possibilities for Hoop Dreams Nandino. As we strive to further enhance our Club Program, planned additions are poised to create a hub of collaboration and camaraderie, where athletes can connect, unwind, and share their passion for the game.
In addition to the promise of a burgeoning club experience, Nandino holds aspirations for other enhancements. We are actively seeking support for the installation of a scoreboard, a potential game-changer that will elevate the energy and excitement during games and practices.
Hoop Dreams Nandino is a canvas of potential, where the power of dreams meets the drive for excellence. It's an environment that beckons players of all ages to join us on a journey of growth, commitment, and unyielding determination.