At Hoop Dreams Basketball, we believe in the transformative power of community. As we continue our journey to impact lives beyond the court, we are eager to expand our community partnerships and collaborate with individuals and organizations who share our vision for positive change.As we strive to make a lasting impact in Lexington and the Greater Central Kentucky area (Bluegrass region), we are actively seeking partners who are ready to step up and contribute to effective community building. Whether you're an individual with a passion for making a difference or an organization dedicated to community development, we invite you to be a part of our mission.
Our core values—Hard, Intelligent, Together—are not just principles for basketball; they are the driving force behind our commitment to community impact. We envision a community where hard work, strategic thinking, and unity come together to create positive change, empowering individuals to champion their dreams and contribute meaningfully.
ARTICLES:
UK football's Ray Davis trying to make impact on and off the field
At Hoop Dreams Basketball, our core values—Hard, Intelligent, Together—are the heartbeat of our community impact. These values are not just words on paper; they are living principles that guide our actions, shape our programs, and drive positive change in the community.
Hard: The Pursuit of Excellence
Beyond the Court: Hard work is the foundation of our commitment to community impact. We believe in empowering individuals with the skills and mindset to overcome challenges not only in basketball but in life. Through mentorship, workshops, and community outreach, we instill the value of hard work as a catalyst for personal growth and success.
Intelligent: Strategic Thinking for Change
Beyond the Court: Intelligence goes beyond basketball IQ; it extends to creating thoughtful, positive change. We leverage strategic thinking to address community needs, offering programs that foster critical thinking, academic excellence, and life skills. By promoting intelligence, we equip our community members to navigate challenges and contribute meaningfully.
Together: Uniting for a Greater Cause
Beyond the Court: Unity is our strength, not only within our basketball programs but also within the broader community. We actively seek collaborations, partnerships, and initiatives that unite individuals for a common purpose. By fostering a sense of togetherness, we build a community that supports, uplifts, and collectively works towards a brighter future.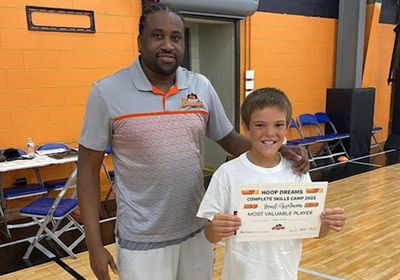 Championing Dreams: Impacting Lives
Beyond the Court: Our commitment to championing dreams goes hand in hand with community impact. We believe in empowering individuals to dream beyond their circumstances. Through scholarship programs, community events, and mentorship, we aim to create a culture where every dream is valued and supported.
In embodying these core values, we are not just shaping basketball players; we are nurturing individuals who become positive contributors to our community. Join us at Hoop Dreams Basketball, where our values fuel impactful change, both on and off the court.