2023 LITTLE HOOPERS
UPCOMING SESSIONS
12:00 P.M. Session Only - 32 Spots Available! - Each Session Has a 12:00pm and 2:00pm Option
Contact Us
Do not fill this form out if you're a solicitor.
REGISTER YOUR CHILD FOR Little Hoopers / First Time Ballers TRAINING
Don't miss the opportunity to help your child build a strong basketball foundation. Register today and let the basketball journey begin! We offer Little Hoopers in 8-week seasonal sessions. We have TWO different time slots each seasonal session; 12:00 P.M. session and 2:00 P.M. session. Each Little Hoopers lasts roughly an hour and thirty minutes. LIMITED Availability - Cost: $225 + Tax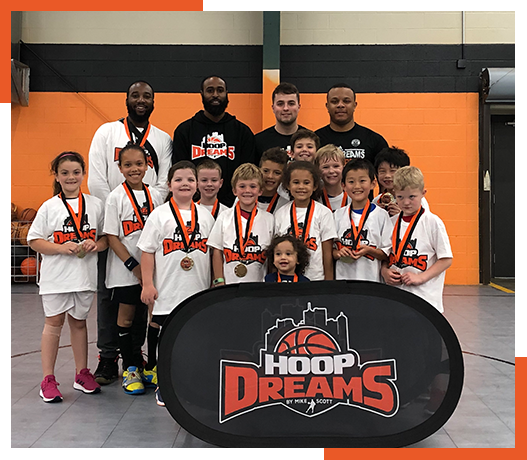 WHAT TO EXPECT
RESULTS. Your Player will grow, improve and increase their fundamental skill set
DEDICATED COACHES. HD coaches take ownership and pride while instructing your child.
ORGANIZATION. Our sessions are strategically pre-planned, organized and there is NO time wasted.
FUN Our sessions are geared toward developing a lifelong love for the game of basketball.
LITTLE HOOPERS AND FIRST TIME BALLER YOUTH BASKETBALL PROGRAMS
Welcome to Hoop Dreams' Little Hoopers Basketball Program!
At Little Hoopers, we are passionate about fostering the love for basketball in our youngest players. Our program is specifically designed for 1st and 2nd grade boys and girls, focusing on their overall skill development and providing a fun and supportive environment for them to grow as athletes and individuals. Our Saturday sessions are a combination of both skill development and 3 on 3, 4 on 4 basketball games. This is our "league" version for students in 1st and 2nd grades.
Player Development is at the Core:
We understand the importance of building a strong foundation in basketball skills from an early age. Our dedicated coaches prioritize player development, tailoring the curriculum to the unique needs and abilities of beginner basketball players. We focus on fundamental basketball skills such as dribbling, shooting, passing, and footwork, ensuring each participant gets the attention and guidance they need to improve.
Fun and Engaging Sessions:
We believe that learning happens best when children are engaged and enjoying themselves. Our sessions are designed to be both educational and enjoyable, featuring a variety of age-appropriate drills, 3 v 3, or 4 v4 games, and activities that keep our young athletes motivated and excited about basketball. We create a positive and supportive atmosphere where each child feels encouraged to challenge themselves and grow at their own pace.
Small Group Sizes:
To maximize individual attention and optimize learning, we maintain adequate coach to player ratios. This enables our coaches to provide personalized instruction, address specific needs, and track the progress of each player. Our focus on small groups ensures that no child gets lost in the crowd, promoting a positive learning experience for everyone involved.
Supportive Environment:
At Little Hoopers, we foster a supportive environment where teamwork, sportsmanship, and respect are emphasized. Our program aims to develop not only basketball skills but also important life skills such as discipline, perseverance, and leadership.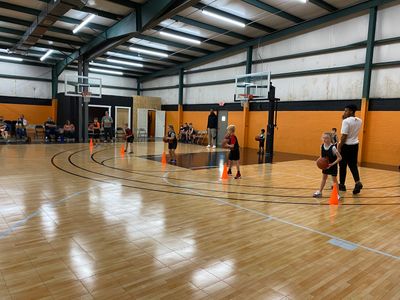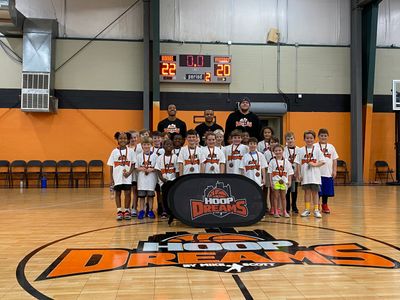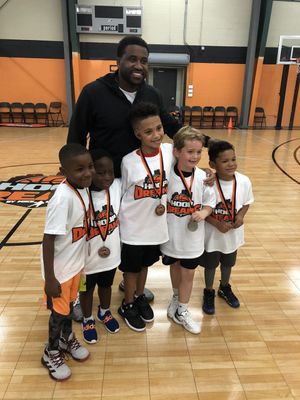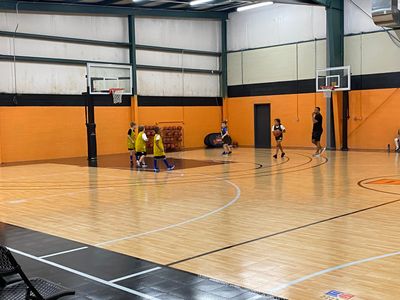 Now Offering "FIRST TIME BALLERS" !
Welcome to First Time Ballers, a true introduction to the sport we love! Our specially designed basketball program is tailored for preschoolers and kindergartners, or any "First Time Baller" and aims to introduce your little ones to the exciting world of basketball in a safe and nurturing environment.
Learning through Play: At First Time Ballers, we believe that children learn best through play. Our program is designed to help kids develop fundamental motor skills, coordination, and teamwork while having a blast on the court. Through fun-filled activities and games, we'll ignite their passion for sports and physical activity.
Experienced and Caring Coaches: Our team of coaches are not only skilled in basketball but also experts in working with young children. They'll engage your little ones with patience, care, and enthusiasm, ensuring they feel comfortable and confident in their exploration of the sport
Building Confidence and Social Skills: First Time Ballers isn't just about basketball; it's also about building confidence and essential social skills. Your child will gain a sense of achievement as they master new skills and interact with other kids, fostering friendships that could last a lifetime.
Limited Class Size: To ensure individual attention and a quality learning experience, we keep our class sizes small. This way, each child receives the care and guidance they need to progress confidently.
End-of-Program Celebration: We celebrate every child's progress and achievements with a special end-of-program celebration! It's a chance for parents and children to come together and applaud the wonderful journey they've had with First Time Ballers.
Join us at First Time Ballers and watch your child's confidence soar as they embark on an unforgettable basketball adventure
Don't miss the opportunity to help your child build a strong basketball foundation. Register today and let the basketball journey begin!
We offer our First Time Ballers program in 8-week seasonal sessions. Saturdays at 9:30 A.M.
Each First Time Ballers class lasts roughly an hour and thirty minutes. LIMITED Availability.
Cost: $175 + Tax